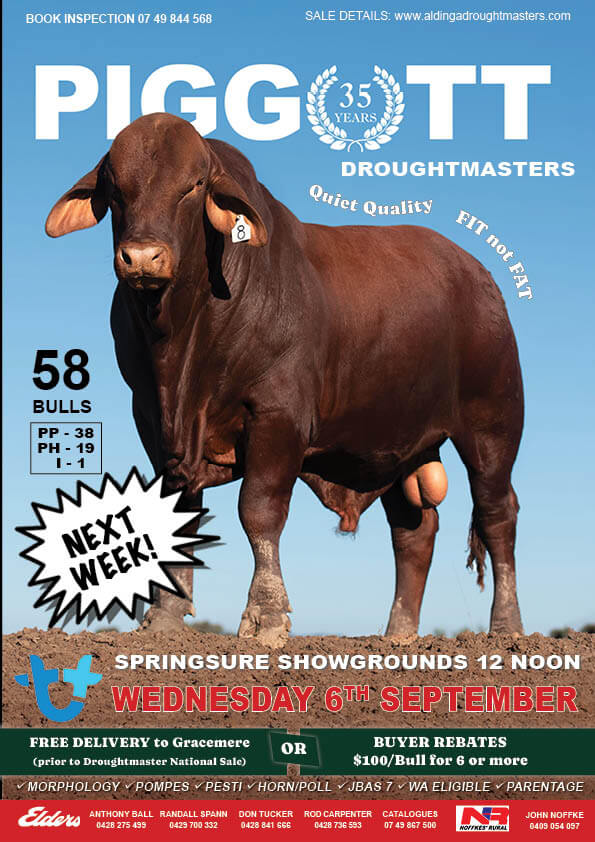 Quiet Quality … Prepared for a Long Working Life
PIGGOTT BULLS have been fed a self-limiting protein and mineral meal (cotton seed, copra and canola) based supplement. The feed was designed to supplement pasture (not be a substitute for grass) and maximise paddock use. The great thing is that these bulls have had consistent growth and development from weaning, practised their foraging ability and maintained their grass gut health – All without a high intake of grain which has adverse effects on fertility, feet and longevity. Post sale they will maintain their body condition for longer than a grain fed bull. They are presented in excellent working condition with the ability to forage and walk. There have been no leg or feet issues and no feet have been trimmed.
MATCH FIT AND READY TO WORK
Sale Bull Selection
Temperament, as usual, is trumps in our sale bulls – if he is not quiet, he's not in the sale.
Fertility – all bulls are motility and morphology tested
Good conformation, tidy underlines and great feet.
DNA Sire Trace has been used since 2014 and a large percentage of the herd now have full parentage results.